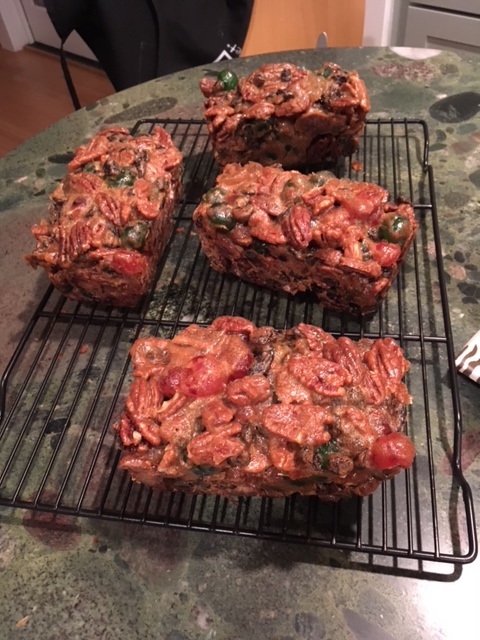 Well, I am hardly getting to cook these days. Wednesday we had leftovers as Jim had a meeting here of our Let's Dance Club. He is now the president. Thursday his senior golf group had a dinner. The food was surprisingly very good. I had salmon on pea risotto. It was delicious. Friday I could have cooked but, I had been up early and toured the governor's mansion and then had a great lunch with all the Newcomer's at The Yellow Porch. I had a yummy black bean burger with salad. We went to our local Japanese restaurant before dance club. I had edamame and cucumber rolls. Jim had his shrimp tempura. I also ordered 2 squid sushi. I gave one to Jim and he gave me his tempera fried broccoli. Jim danced his tango with Rachael.
Last night was to be our University Club Christmas dance. One hour before we were to leave, we got a call. Vanderbuilt University had a wanter main break and they turned off the water in several buildings including our club. So we met Barbara and Joel at Giovanni's in Bell Mead for dinner. I had a delicious grilled octopus as an appetizer followed by pillow soft gnocchi in a tomato sauce for dinner. They had vanilla galletto with chocolate sauce and Jim had some choral ate cake.
Speaking of Jim, he woke up with strep throat this AM. He went to Vanderbuilt Clinic and had it confirmed. He is on Penicillin.
After breakfast, I started my baking mission for the day. I made my Mom's fruit cake and chocolate bark. I haven't made it in years as in the east, they only had cut up little pieces of candied fruit in the markets. You need whole cherries and whole pineapple for hers. I walked in Publix and there was my dream red and green whole cherries and whole pineapple. Yesterday I shopped for hours in two different Publix and Costco. I started making the fruitcake and found out we were totally out of butter. So back to the market this AM and we now have butter.
Ingredients:
1# candied red and green cherries
1# candied pineapple cut in large pieces
1# pecan halves
1 1/2 C white raisins
1/8t baking powder
1/2 t cream of tarter
dash salt
6 eggs
1/4 # butter (1 stick)
1 C sugar
Directions:
Preheat the oven to 225 degrees F.

Sift the dry ingredients over the fruits and mix well.

Cream the butter with the sugar, beat in the eggs.

Mix the pecans in with the fruit and pour in the butter/egg mixture. Mix throughly and divide into floured loaf pans. Press down to release pockets of air as much as possible. It will make 2 loaf pans or I made 4- (3 1/2" X 6") loaves.

Bake at 225 d.F. for 2 1/2 hours. Turn out on a wire rack to cool.
Next I tackled a chocolate candy recipe I saw on the Trish Yearwood show. She used a lot of colors, I was going to use red and green, but they only had white or chocolate in Publix. So I turned her recipe into white and dark chocolate bark with peppermint sprinkles. Later I am going to turn it around again and Use dark chocolate chips with white melts with cocoa nibs and chopped pistachio. I am going to type her recipe and you will get what I am doing.
Ingredients:
1/2 C blue candy melting wafers
1/2 C pink candy melting wafers
1/2 C green candy melting wafers
1/2 C yellow candy melting wafers
1 12 oz. bag white chocolate chips
Directions:
Special equipment a skewer or tooth pick

Line a baking sheet with a silicone mat or parchment paper

Add the 4 colors of candy melting wafers to separate microwave-safe bowls. Microwave each bowl separately for 30 seconds. Stir and microwave for 30 seconds more or until just fluid. (Microwave should be on 50% or defrost. I highly recommend you melt over hot water. White chocolate is tricky and can turn on you in a heartbeat.)

Melt the white chocolate chips in a separate microwave-safe bowl at 70% power for about 1 minute. If needed, microwaves at 70% in 10-second intervals until fluid.

Pour the white chocolate onto the silicone mat and spread thin white an off set spatula into a square or rectangle,

Using a small spoon, drop and drizzle the assorted melted candy wafers over the top of the white chocolate. Then, take a skewer and grab the color around to make swirls.

Refrigerate to set up, 1 hour.

Break the chocolate bark into pieces and serve. Store in an airtight container.
Continue Reading >>