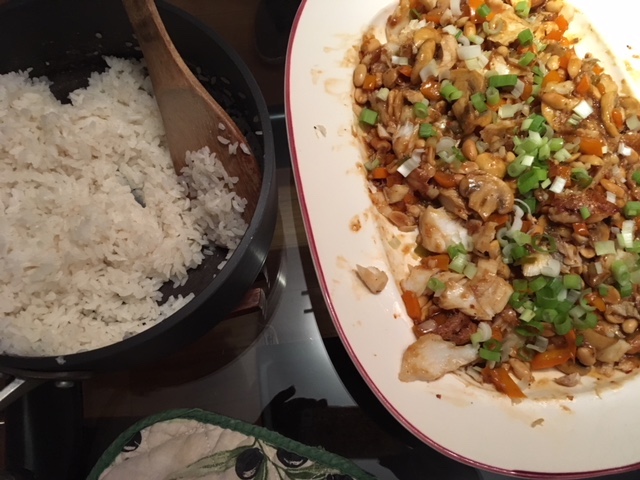 This is the best Chinese meal I have ever tasted. My cod fell apart so I could not serve it as a slab topped with veggies and sauce, but it looked Like a Chinese meal and was just wonderful. This meal was for 6. As it was just Jim and I, I used 3 fillets. I made the full amount of veggies and sauce. It is also very easy.
Ingredients:
6 fillets of cod, or other fir fish about 2# total
1 T reduced sodium soy sauce
1 t cornstarch
2 t grapeseed oil
2 t sesame oil
8 cz. white mushrooms, sliced
1/2 C thinly sliced bell pepper (red orange or yellow preferred)
1/2 C unsalted peanuts
1/2 C chopped green onion
Sauce:
1/2 C reduced sodium soy sauce
2/3 C water
3 t rice wine vinegar
1 T brown sugar
1 T cornstarch
1 T grated fresh ginger
4 garlic cloves, minced
1/4-1/2 red pepper flakes
Directions:
Heat a large nonstick saucepan on medium high heat.

On a cutting board or plate, drizzle the Tablespoon of soy sauce over both sides of the cod fillets, and gently pat away the excess with a paper towel.

Sprinkle the cornstarch over both sides of the fish, and gently pat away or brush away any excess.

Place the oil in the pan, and once hot, cook the cod just until golden brown and cooked through, turning once, about 4 minutes per side.

meanwhile whisk all the sauce ingredients together in a small bowl and set aside.

Remove cod from heat and set aside on a warm plate.

Add the sesame oil, mushroom and sliced pepper to the pan and cook a minute or two until the vegetables begin to soften. Add the peanuts and half of the green onion and cook another minute.

Pour all of the sauce ingredients from the bowl into the pan. It will thicken almost immediately. Stir and remove from heat.

Spoon the Kung Lao sauce over the fish to serve, and sprinkle with remaining green onions.
I served this over rice. We loved it.