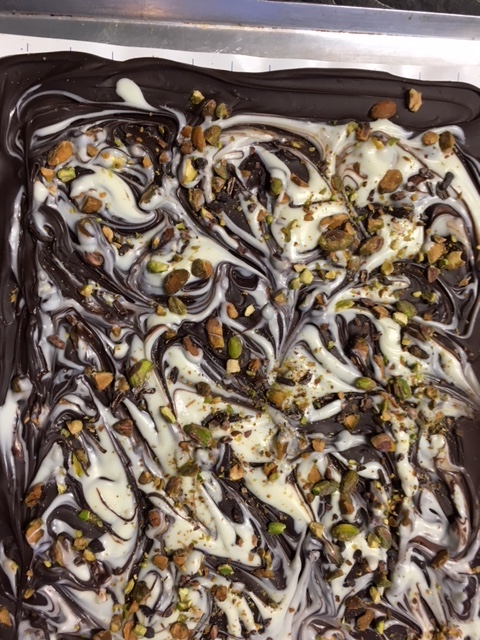 Again using Trisha Yearwood's painted white chocolate bark recipe, I modified it to be other than her recipe.
Ingredients:
16 oz. dark chocolate chips
1/2 bag white candy melting wafers
1 C chopped pistachios
1/4 C chocolate nibs
Directions:
Line a baking sheet with a silicone mat.

Melt the dark chocolate chips.

With a off-set spatula spread all the dark chocolate in a large rectangle. Fill the mat.

Sprinkle with pistachios.

Melt the white candy wafers. drizzle over the chocolate and swirl with a toothpick. Sprinkle with more pistachios and chocolate nibs.
The picture is before I break it up.
I also made sugar cookies that I carefully stamped with a imprint of holly leaf and berries. They spread on the sheet into square blobs. So much for that idea. I spread with blue icing and sprinkled with white sprinkles. The end.
Continue Reading >>